Field of studies: Ship Operation Technology
at the Department of Maritime Studies, Systems Engineering and Logistics in Rostock-Warnemuende
Graduates of the field of studies "Ship Operation Technology" are applicable especially as Technical Watch Officers, 2nd Technical Watch Officers and Chief Engineers for operation of ship propulsion systems with virtually unlimited power as well as in the whole area of maritime technology.
It is also possible to take profession in a shipping company or in maritime authorities.
Furthermore there are possibilities to work in operation or maintenance of energy and supply technology, power plant technology or in companies of the mechanical engineering sector or at thermal or energetic facilities.
Starting as a Technical Watch Officer, soon 2nd Technical Watch Officer or Chief Engineer – graduates of the course of study "Ship's Operation Technology" have a great choice of employment of many interesting ships and shipping companies.
If it's a container vessel, a tanker, a ferry or a passenger vessel – every ship has challenging machinery.
Job profile
Fascinating technology, applied skills and a little bit wanderlust
At the end of school education or during professional reorientation everybody asks himself: what career do you want to pursue? Of course it is hard to decide if your choice suits your talents and needs before starting studies. That why I want to give you a short insight into life of a ship's engineer.
The main task of a ship is of course the transport of cargo from one port to another all around the world. For that it needs to have a propulsion system - an engine that powers the ship through water by help of the propeller. The requirements of the people on board make a ship a "swimming city" by means of numerous supply systems. Among other things it needs electrical power from a socket, clean water for drinking and personal hygiene, a pleasant indoor climate in the cabins as well as the chilled closing time drink
Every beginning is hard
After graduating from study you receive the competence certificate as a "Technical Watch Officer" – it is a kind of driver's license that enables you to work on ships of every size and every driving power. A closer look into the worldwide fleet makes it clear: most likely it will be a container vessel. These giants are huge: up to 400m of length, 55m of width and 16m draught. The currently biggest vessel is able to load up to 11.000 20-foot-containers – this corresponds with a merchandise volume of 365.000m3!
With that certificate you start on board as a "3rd Engineer". As a beginner you are normally entrusted with partitions of the machinery. Usually you have to take care autonomous of the diesel generators supplying the ship with electricity, the separators (centrifuges for cleaning fuel oil and lubrication oil) and the steam generating boiler plant. In a predefined period inspections of those aggregates have to be carried out to detect any damage or wear at an early stage. In case a machine breaks down despite of regular inspection it has to be repaired and brought back to life with the funds available – and that might be in the middle of the Atlantic ocean.
The 2nd Engineer
After finishing 12 month of seafaring you automatically receive the 2nd-Engineer-certificate without further examination. He is the chief's deputy and the foreman of the engine department. As "Secretary of Employment" he has to take action with knowledge in personnel management. In terms of engine operation he has the responsibility for the main engine and all associated supply systems as well as special fields like the air conditioning system. If you are already proud of 200 hp in your car – just imagine what extensive knowledge and practical skills you need with a main engine with up to 100.000 horsepower!
The "Chief"
Initial misunderstandings can occur while talking about the term "Chief" on board - because there's two of them: the "Chief Officer" (head of the deck department) and the "Chief Engineer" (head of the engine department). But "the Chief" is always the head of the machinery.
After more seafaring you'll get the authorization to work as head of the engine department. If you are deployed as such depends on your personality, your knowledge and experience and the personnel policy of your shipping company.
Together with the Captain the Chief presents the ship's management and he is the leader of the engine department. Regarding the engine department you are responsible for organisation, coordination and functionality of all machinery units. Because only if that is given the vessel gets from the port of departure to the next port of call – safe for all persons on board, safe for the cargo and safe for the sensitive environment.
As an authority figure and expert you are the ultimate decision-making authority for all problems and questions rising during operation of the ship's machinery. Therefore you need an immense technical knowledge in the fields of engines, electrical engineering, measurement and control technology, automation technology, plant operation, chemistry and dangerous goods, logical analysis, systematical problem investigation, commercial awareness and leadership. And most important: the ability to apply all these competences within the framework of existing international legislation.
Like in engineering jobs on shore the amount of paperwork is growing on board as well. In this regard the Chief has to take care of writing the engine log book. That involves careful documentation of oil- or fuel oil – transfer and of all maintenance work that has been carried out. It seems unnecessary during normal operation, but if a damage occurs and the insurance companies demand evidence correct bookkeeping is worth a lot.
As an marine engineer you also take action in safety matters – which gains in importance nowadays. No one is a born master – you will have the possibility to qualify your staff or take part in education of young engineers by passing your knowledge. To prevent accidents you are skilled in occupational safety, but even if an accident occurs the Chief has medical knowledge, firefighting skills and knows how to behave in any case of distress.
Be a Maritime Engineer
This variety of future tasks makes this job very appealing. There is hardly another profession that is approximately so versatile and diversified and you can express yourself as strong as here.
Not only the international area of activity but also the international crew on board provides an attractive working environment.
Further information regarding your career you can find here: German Shipowners Association.
Qualification goals
Technical ship officers play a prominent role in the operation of ships as well as in the maritime industry. The occupational field of the technical ship officer includes the responsibility for the complete ship operating systems as well as their operation and maintenance.

The students of the field of study "Ship's Operation Technology" acquire a degree according to international standards in accordance with STCW, which enables them to work as a technical watch officer and creates the prerequisites for the issuing of the relevant certificate by the BSH.

The goal of the qualification is to produce Bachelor graduates who
have a broad, scientifically sound basic knowledge and the specialist knowledge necessary for the transition to professional practice,
have the skills for analytical, networked thinking and methodical independent action,
are able to cooperate with specialist colleagues and others involved in ship operations, to look for solutions in critical discourse, to work in a team and to represent their work convincingly to the outside world
are able to act in a socially responsible and environmentally conscious manner.
The course content corresponds to the current state of technology and science. They are based on the principle of the unity of teaching and research.

In the "Ship's Operation Technology" field of study at the UAS Wismar, the technical and scientific basics of an engineer and specialist knowledge of ship operations technology are imparted, which can lead to the basic qualification for further scientific training in a master's degree.
Bachelor graduates are given special knowledge:
mathematical, physical, mechanical, thermodynamic, electrotechnical, electronic and system theoretical fundamentals as the basis for the different systems and facilities in technical ship operation
Structure, function and operation of diesel engines
Structure, function and operation of machines (pumps, compressors)
Construction, function and operation of maritime machines and systems (separators, filters, de-oilers, etc.)
Construction, function and operation of steam, refrigeration and air conditioning systems
Construction, function and operation of systems for ship electrical engineering and ship automation

One focus is on imparting skills for the targeted analysis of malfunctions and their elimination in the systems. The internship semester is intended to deepen the theoretical and practical knowledge imparted during the course and to give the students an insight into the work as a technical watch officer. The module "Maritime Technical English" gives Bachelor graduates the linguistic competence to act on board ships with international crew.

In the course "Ship's Operation Technology/Plant and Supply Technology" at the UAS Wismar, value is placed on high quality teaching and the imparting of key qualifications. It integrates current developments and maintains interdisciplinary cooperation.

Bachelor graduates should be able to operate and maintain the ship's technical systems in a technically, economically and ecologically sustainable manner.

Graduates should learn to apply engineering planning methods independently, also with the use of IT tools, and to act competently economically. The development of methodological competence while applying basic knowledge to real ship operation tasks is to be promoted through jointly processed projects. The ability to work in a team and leadership skills, which are also part of the challenges for ship officers, are intended to prepare for successful cooperation with the nautical and electrotechnical ship sector. The teamwork strengthens social skills for later professional practice. Project presentations promote methodological competence with regard to the presentation and communication of one's own planning work. The aim is to provide broad technical training in the fields of ship operation technology so that the graduates can work in all areas of technical ship operation.

Possible areas of application for Bachelor graduates are, in addition to their work as technical ship officers, the field of offshore wind farms and the entire field of the maritime engineering industry. Research institutions with a corresponding focus can also represent a field of activity.

The Wismar University of Applied Sciences has stipulated in the framework examination regulations that are binding for all courses of study that, upon application by the student, special periods of study, such as stays abroad and language studies as well as periods of active participation in university committees, are not counted towards the standard period of study (see Section 12, Paragraph 5, p. 1 framework examination regulations). This promotes the commitment of the students to work in the university's self-governing academic committees and at the same time enables a balance between studies and self-governing academic activities.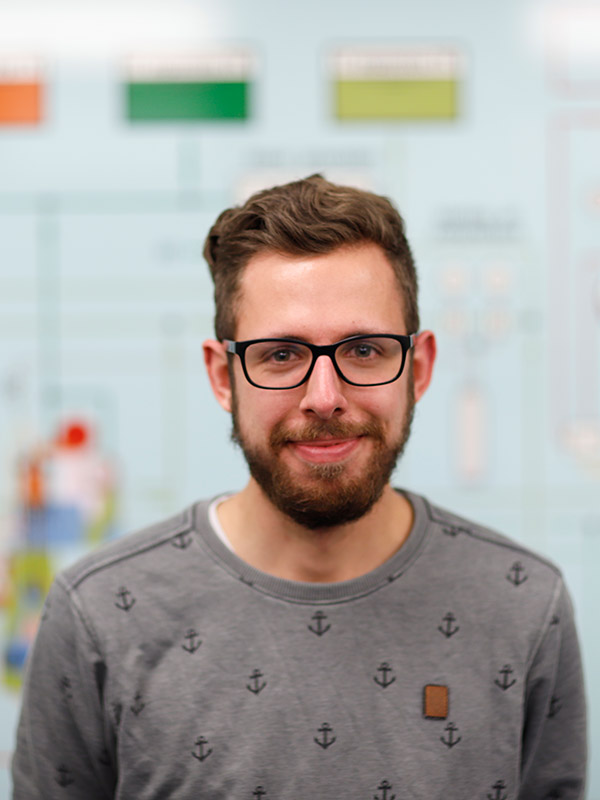 After two years as a technical officer assistant at Hapag-Lloyd AG, where I collected the seafaring time necessary for my studies, I decided to study at the University of Wismar. The name Wismar is a bit misleading, although I am matriculated at the HS Wismar, almost the entire course takes place in the Baltic Sea resort of Warnemünde in Rostock in the field of seafaring, systems engineering and logistics.

So I study in a place where others like to go on vacation, which was not the reason for my decision. The university has a very good reputation in the maritime industry and offers me the best possible education. After two semesters of basic studies, you go into the specialist semesters and experience lectures in small groups. So teaching is very personal, for professors you are not just any matriculation number. This results in a very good relationship between the students and the professors. We students are looked after very well; there is a preliminary course in math and physics before the start of the first semester. I would recommend this to everyone, you get to know your fellow students and get your first tips about life as a student. There are also tutoring programs for students from higher semesters, should these be needed.

The studies in Warnemünde are traditionally with an engineering focus, this is also noticeable in the basic studies. If you invest time, studying at the Wismar University of Applied Sciences offers you a wide range of opportunities after graduation, be it in shipping, on land in the maritime industry or in the form of a Masters, also on the Warnemünde campus. In addition, the environment offers a variety of opportunities for creative leisure activities. At no point have I regretted my decision to study here.
General student advisory service
Jana Fischer

Dipl.-Kff.

Employee

Fakultät für Ingenieurwissenschaften

Seefahrt, Anlagentechnik und Logistik

Building 2 · Room 2227

0381 96985802