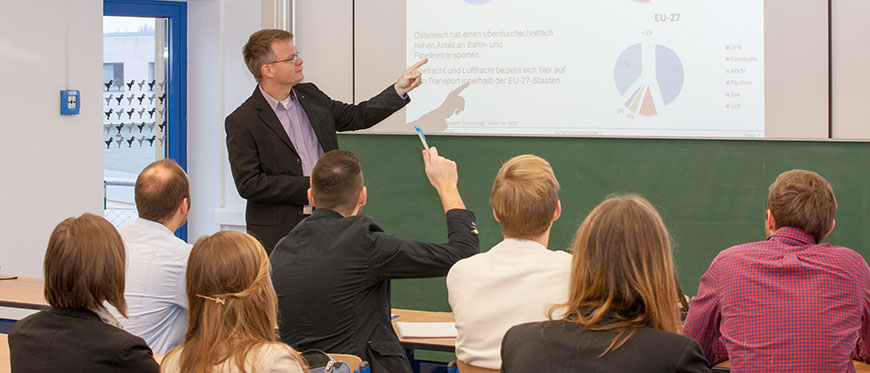 Field of studies: Transport Operations and Logistics
at the Department of Maritime Studies, Systems Engineering and Logistics in Rostock-Warnemuende
The advancing globalization and division of labor leads to ever more delicate and intensive global exchange relationships in freight and passenger transport. The professional prospects in this sector will continue to be excellent in the coming decades. Constantly changing framework conditions such as e.g. in the field of fuels, environmental requirements and politics regularly call for new and improved processes and technology in transport and logistics companies.
At the Warnemünde Campus of the University of Applied Sciences Wismar in Rostock-Warnemünde, the field of studies "Transport Operations and Logistics" offers the appropriate practical academic qualification for the transport and logistics sector. Students benefit from professors who "know every trick in the book" and who offer courses and seminars in small groups. Excursions and internships provide concrete insights into this international industry, the linguistic understanding of which is rounded off by language lessons during the course.

Welcome to Warnemünde!
Yours Prof. Dr. Sönke Reise
Job profile
Job profile
It's an easy question, but difficult to answer. Unlike the degree course "Nautical Science/Maritime Transport" the specialization "Transport Operations and Logistics" covers a considerably greater range and options for later career.
Basically most people in Germany work in the field of logistics. There is no other branch of economy that enables people to earn their living. On reason for that: the term "Logistics" covers a wide area. That's why the graduate have plenty possibilities to develop.
Logisticians have to ensure, that goods, materials and commodities are always at place in the right amount, in the wanted quality and all that for possibly low costs. For that ordering, delivery, transport and storage has to be planned, organized and executed.
Before considering seriously starting the degree course "Transport Operation and Logistics" at the Department of Maritime Studies, you may check if you find yourself here:
You don't need to be a fan of mathematics, but you should be able to calculate
Logical thinking is requested, because logistics implies logic
You are aware of the fact that the studies is split equally between technical and economical fields
You are aware of the fact that you study at an educational institution that has a maritime background. Therefore many example cases are chosen from that area.
You are going to be Bachelor of Science. Therefore besides traffic planning, transport technology or conveyor technology: electrical engineering, informatics and measuring and regulation technology are also part of your education.
If you can answer these points with "Yes!" – The whole world is opened up for you! The next four examples from former graduates will show your possibilities:
Graduate "Transport Operations and Logistics" works in Port Logistics
You work in a port. For a shipping company, a cargo handling company, a warehousing company or even at the container terminal. Also conceivable: the port operating company. It may be your job to analyze operating procedures and to optimize those. Depending on your employer you may develop methods to optimize dispatch and planning of operating procedures.
Graduate "Transport Operations and Logistics" works as a Project Engineer
As a project engineer you have to face new tasks daily. It might be your job to re-organize wharfages, get involved with charcoal logistics or to optimize dispatch of raw materials for a bio diesel plant. Your employer might be a big, all embracing or a small, highly specialized planning office.
Graduate "Transport Operations and Logistics" works in Human Resource Management
It is your job to get the right person at the right time with the required qualifications to the right place. So you could work in operative human resource management or make personnel planning in a private personnel service agency.
Graduate "Transport Operations and Logistics" works in Route Planning
You work for a post office or parcel service. Or maybe for a haulage company. You have sources and sinks for goods. And now you have to get involved in route planning. It might be your job to control the delivery of packages in the center of transportation and to react to upcoming problems. Furthermore you might be asked to re-new and optimize the route planning.

So much for a brief insight in your possible future tasks. During study you are going to learn to work systematically and solve problems effectively. As a graduate of HS Wismar you are a person of action. It is not your task to establish new theories – you have to bring in your knowledge and experience effectively in the operating procedures.
As a side effect you have career prospects. The Department of Maritime Studies in Warnemünde is one of the few maritime training centers. There are just as little qualified logisticians as nautical or technical officers, who are familiar with the procedures in port at a university and college level. You will have great chances to get a job that suits you.
Qualification goals
The aim of the field of studies Transport Operation and Logistics (VBL) is to enable graduates to analyze, plan, control and evaluate simple and interlinked control, transport and logistics processes. Graduates from this field of study find their professional field of activity mainly in technical management as well as in the technological areas of transport, handling, storage and logistics companies. You can work in the particularly innovation-oriented areas of process design and planning as well as in operational process control and monitoring. A wide range of specialist knowledge is imparted through application-oriented teaching.

The following qualification goals should be emphasized:
a broad, scientifically sound basic knowledge,
the specialist knowledge necessary for professional practice,
the ability to work scientifically
the necessary methodological competence (to recognize problems, to work out solutions independently and to weigh them up critically)
In-depth knowledge with the aim of planning and implementing work processes and actions in accordance with environmental protection regulations
For graduates of both fields of study, leading teams is an essential part of their later professional tasks. For this purpose, the students receive intensive training, their personal development sharpened and their skills in social interaction with people emphasized and deepened.

In addition to the basic modules such as mathematics, physics, computer science, technical mechanics, law, business administration, etc., students also take specific modules such as sociology, psychology, chemistry, thermodynamics, electrical engineering, etc. and thus receive extensive socio-technical basic knowledge. The in-depth specialist modules of the respective field of study result in a profession-oriented expression. For the field of studies Nautical Science/Maritime Transport (NSV) this is e.g. Navigation, ship management, meteorology, cargo engineering, emergency management, etc. A corresponding portion is led by experienced navigators in addition to the lectures in the form of laboratories, seminars, internships and training in the ship handling simulator. In addition to specialist knowledge, method and social skills are shaped here.

The same applies to the field of studies VBL. In addition to the courses in the form of laboratories, seminars, internships, excursions, etc., the necessary knowledge is imparted and personal development is shaped for the subject-specific modules such as traffic theory, traffic management, traffic planning, traffic safety, traffic simulation, etc.

In the respective project weeks, acquired knowledge is deepened, special skills are trained, the state of the art is analyzed, the framework conditions of the respective operational processes are presented, the linguistic competence is trained and thus overall key qualifications are shaped.

The scientific work is conveyed in basic modules and characterized in several specialist modules through analyzes, lectures, presentations, etc. In the Maritime English module, the previous linguistic knowledge is deepened in order to be internationally active and competitive. In the personnel management module, joint projects, presentations, special seminars and training in the simulator as well as the follow-up to excursions, social skills and teamwork are strengthened. Graduates are optimally prepared for professional practice thanks to the high quality of teaching and the provision of key qualifications.

There are various channels available to prospective students and students to find out about the core competencies of the course. A comprehensive description of the course is available on the UAS Wismar website. The module descriptions in the module handbook give a detailed overview of the entire content of the course.
Major fields of study
Main points of the basic modules:
Mathematics / informatics
Physics / engineering mechanics
Electrical engineering / electronics
Measuring and regulation technology
Business administration
General law
Maritime traffic safety
Main points of the specific modules:
Traffic planning
Port and terminal management
Maritime cargo technology / dangerous goods
Maritime traffic safety / traffic safety
Traffic law
Transport economics
Applied computer science
Special student advisory service