Information for prospective students
Location and Study programs
Location
The following applies to our bachelor's degree courses in Nautical Science/ Transport Operations as well as Ship's Operation Technology/ Plant and Supply Technology: with the exception of one laboratory (Materials Engineering), all courses take place in Warnemünde.
The courses for the master's degree program Operation and Management of Maritime Systems are held exclusively in Warnemünde.
Study programs/fields of study
Looking forward to a career on shore?
If you want to stay on solid ground, you are welcome to choose one of the following fields of studies:
Anticipating a career on board?
Interested in a professional development in maritime shipping? Just choose between these fields of study:
Our employee Mrs. Fischer gladly advises you in person or by telephone:
Mon-Fri 09.00-11.15 Uhr
Tue & Thu 12.45-15.00 Uhr
If you prefer personal consultation, please arrange an appointment with Mrs. Fischer.
Application for foreign students
Please contact the International Office
Applications are only accepted online between Mai 1st and July 15th. In an event of incapacity the application in paper can be requested at the study counselling office.
Enrollment
Enrollment is done each winter semester.
Tuition fees
There are no tuition fees, only a semester fee.
Language
All lessons in bachelor degree courses will be held in German.
Examination and study regulations
You will find admission requirements and rules for the pre-study work placement period at the examination and study regulations (Prüfungs- und Studienordnungen = PSO). The PSO as well as module descriptions (only in german available) can be downloaded from each program's website.
Brochure for freshmen
All new students receive either in the preparatory course or during registration the brochure for freshmen. It provides information to facilitate the beginning of your studies and to support a brief initial phase of acclimatization. Furthermore, you are introduced to the most important contact persons to assure that you know right from the beginning who to approach in case of appearing questions.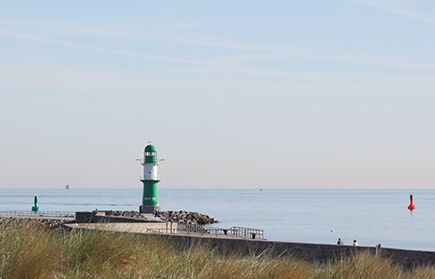 For sailors: The Seaman's Book ...
In case you are interested in the study programs Nautical Science or Ship's Operation Technology, please note that for duty on merchant vessels a Seaman's Book, a Fitness for Sea Service Certificate and the Basic Safety Training certificate is required.
You may find details for the Fitness for Sea Service Certificate in the "Regulations for Fitness for Sea Service" ("Verordnung über die Seetauglichkeit").
A Fitness for Sea Service Certificate can only be issued by a approved medical doctor. A list with approved medical doctors is available on the website www.deutsche-flagge.de. Furthermore, please get familiar with the "Verordnung über die Befähigungen der Seeleute in der Seeschifffahrt (Seeleute-Befähigungsverordnung - See-BV)" in the relevant version.
A valid passport can be potentially advantageous.