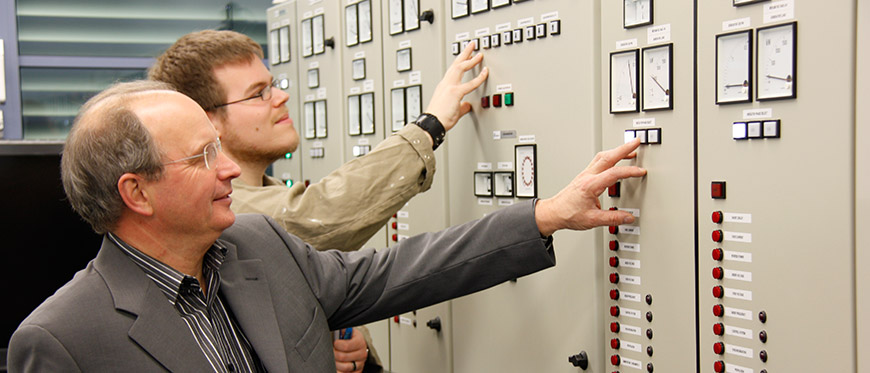 Field of studies: Electrical engineering in Ship's Operation
at the Department of Maritime Studies, Systems Engineering and Logistics
Electrotechnical ship officers play a prominent role in the operation of ships and in the maritime industry. The occupational field of the electrotechnical ship officer includes the responsibility for the complete electrotechnical systems as well as their operation and maintenance on board a ship or in the area of the offshore wind farms.
The students of the marine electrical engineering (SET) course in the field of electrical engineering in ship operations (ESB) acquire a degree according to international standards in accordance with STCW, which enables them to work as an electrical engineering ship officer and creates the prerequisite for the issuance of the certificate of competency as an electrical engineering ship officer by the BSH.

The goal of the qualification is to produce Bachelor graduates who
have a broad, scientifically sound basic knowledge and the specialist knowledge necessary for the transition to professional practice,
have the skills for analytical, networked thinking and methodical independent action,
are able to cooperate with specialist colleagues and other people involved in ship operations, to look for solutions in critical discourse, to work in a team and to represent their work convincingly to the outside world
are able to act in a socially responsible and environmentally conscious manner.
The course content corresponds to the current state of technology and science. They are based on the principle of the unity of research and teaching.
In the "Ship Electrical Engineering" course at the UAS Wismar, the technical and scientific fundamentals of electrical engineering and marine electrical engineering are taught, which can lead to the basic qualification for further scientific training in a master's degree.
Job profile
Anyone wishing to start their professional career in the maritime industry as an electrotechnical ship officer on seagoing ships with a certificate of competency in accordance with the provisions of the International Standards of Training, Certification and Watchkeeping for Seafarers (STCW-Code) is in the bachelor's degree course in marine electrical engineering/field of studies electrical engineering in ship's operation is just the thing.

The graduates are sought-after specialists and as electrical engineers or supervisors of the automation components on board various (including research) shipping companies, but also in offshore wind farms during the construction and operation of the systems and converter stations as well as in the entire field of maritime (supplier) can be used in industry.

The professional tasks include the responsibility for the complete electrotechnical systems as well as their operation and maintenance.

On the basis of the knowledge acquired, the graduates can make a significant contribution to ensuring that the ships and offshore facilities are operated efficiently and in an environmentally friendly manner.

And if the duffel bag should be put in the corner, the qualifications acquired during the course, the experience gained in the job and the independence acquired through the operation on board are ideal for a job on land.
Major fields of study
The courses in the first 4 semesters contain the basic and specialist training in electrical engineering. The courses in semesters 5 to 8 include basic maritime training in accordance with the STCW requirements and specialist training in the areas of maritime electrical and systems engineering.

In the marine electrical engineering course, the knowledge required for mastering the electrotechnical maritime systems and facilities on board ships and in offshore wind farms is imparted.

Focus of the basic modules (selection)
Mathematics / computer science, physics / technical mechanics
Electrical engineering / electronics, automation technology
Materials / technology, business administration
Focus of the specialist modules (selection)
Electrical power engineering/measurement technology
Signals and systems/information transmission
Control technology/control and control technology
Communication technology/communication technology
Sociology/Human Resource Management/Safety/Health Care
Administration and Environment Plant Management
Thermodynamics/thermal ship propulsion
Deck machines/ship machine systems
Ship maintenance/operational management/machine laboratory
Electrical machines and drives/power electronics
Ship electrical systems/offshore technology/medium voltage systems
Ship automation/hotel technology